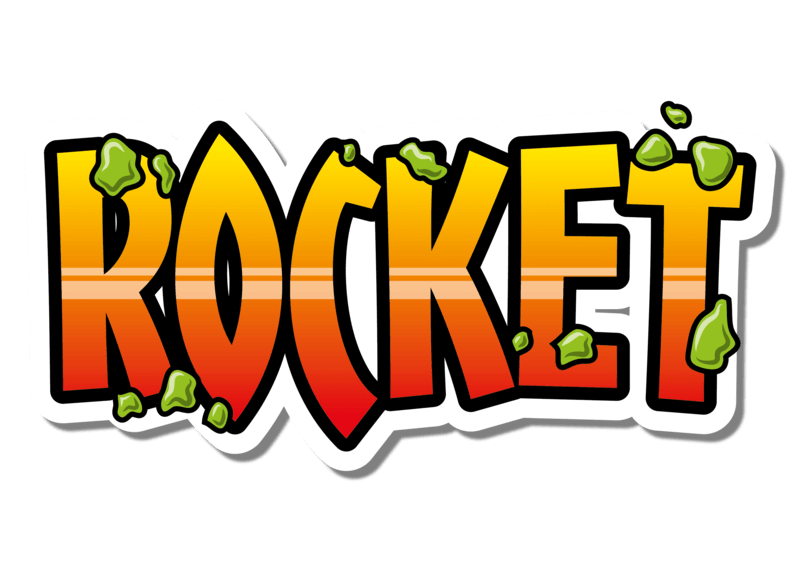 Rocket
Rocket is so easy to grow and find in the UK – you can even grow your own on a windowsill really easily! The perfect companion to pizza, pasta or sauce heavy dishes, rocket is great by itself for those who love a peppery, slightly spicy flavour, or toss in some oil and lemon juice, or vinaigrette, and perhaps slice some Parmesan over it very thinly, too, for an excellent and very easy side salad.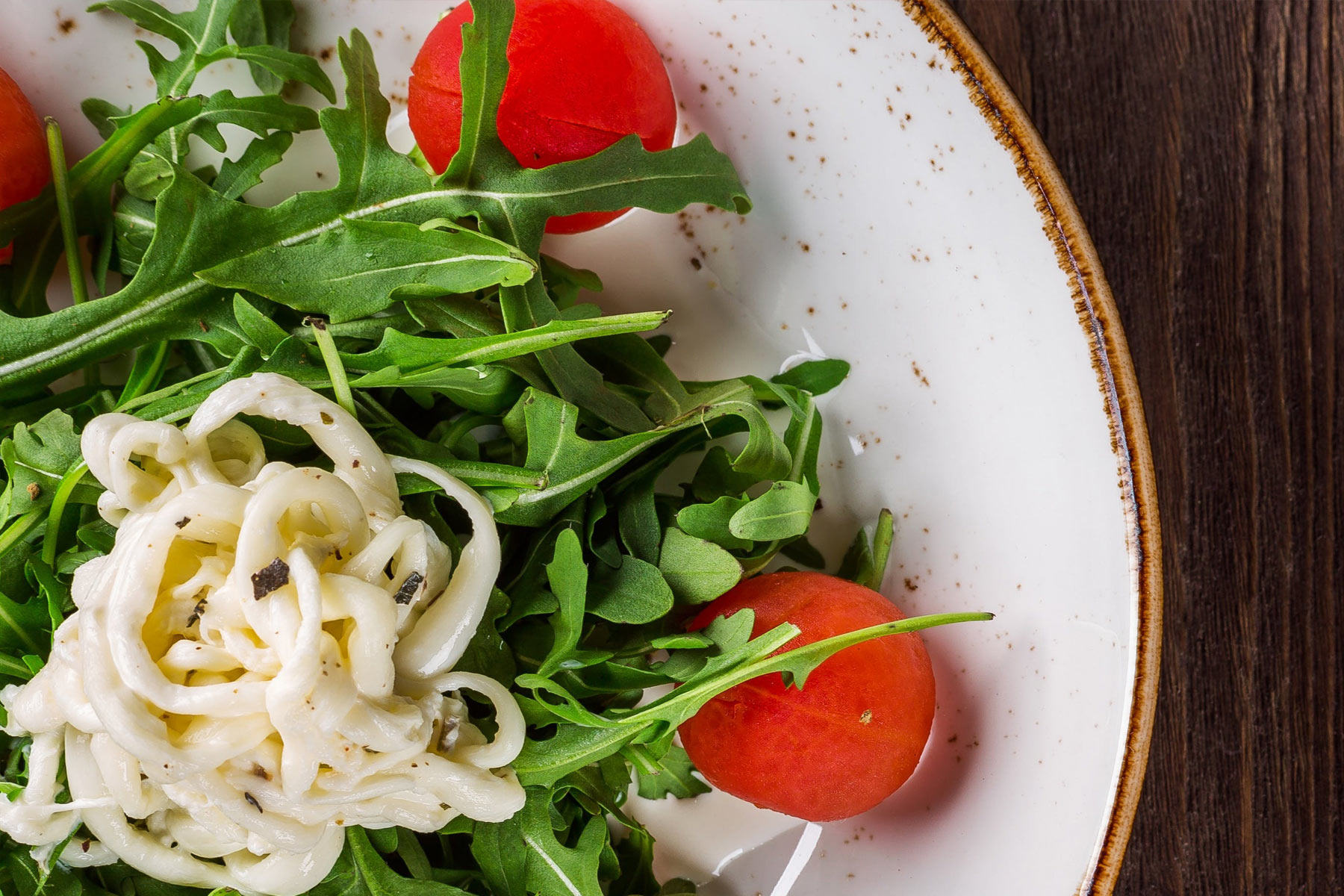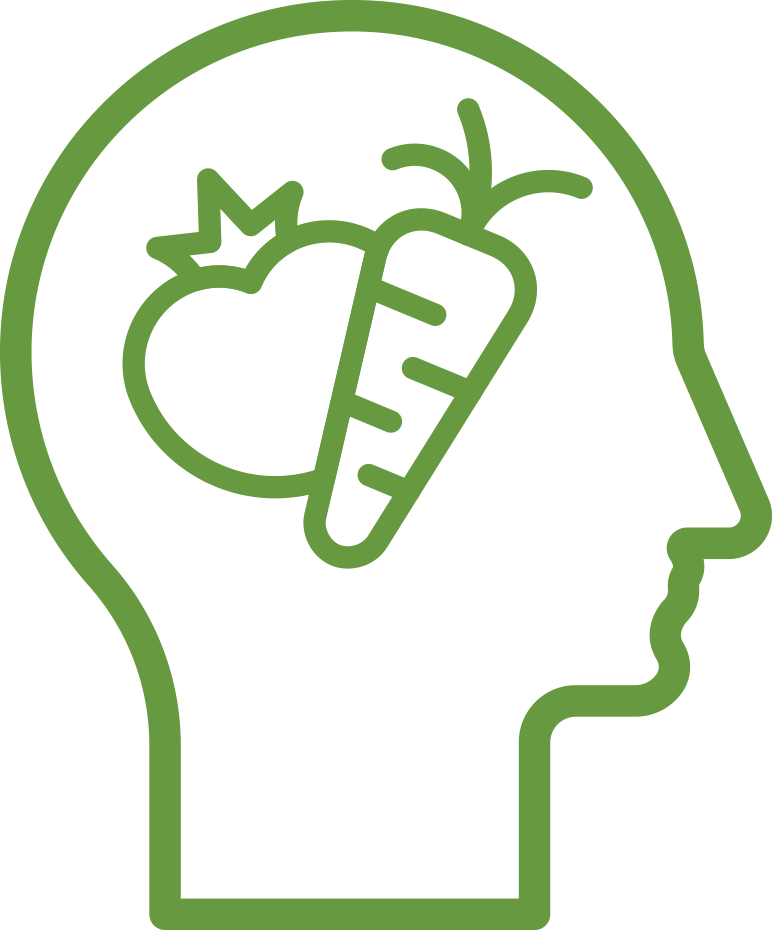 Understanding Veg
Known as arugula in the States, we Brits prefer the name rocket. It's called rocket as it grows extremely fast (at rocket speed), and let's face it, rockets are cool. The younger rocket leaves have a mild, sweetish taste, while older leaves have a peppery, slightly nutty flavour. They are perfect in salads or topped on pizza or pasta.

Nutrition
Rocket like other leafy green veg is a rich source of phytonutrients such as Vitamin C, flavonoids and glucosinolates.

Shopping Guide
Look out for rocket leaves that are a dark green colour and appear relatively firm. 

Serving Suggestion
When fresh, add to salads and sandwiches. If it starts to look sad, don't waste it – add it to soups or stews.

Storage
Rocket can be stored in the fridge for several days.
At Its Best:
April - October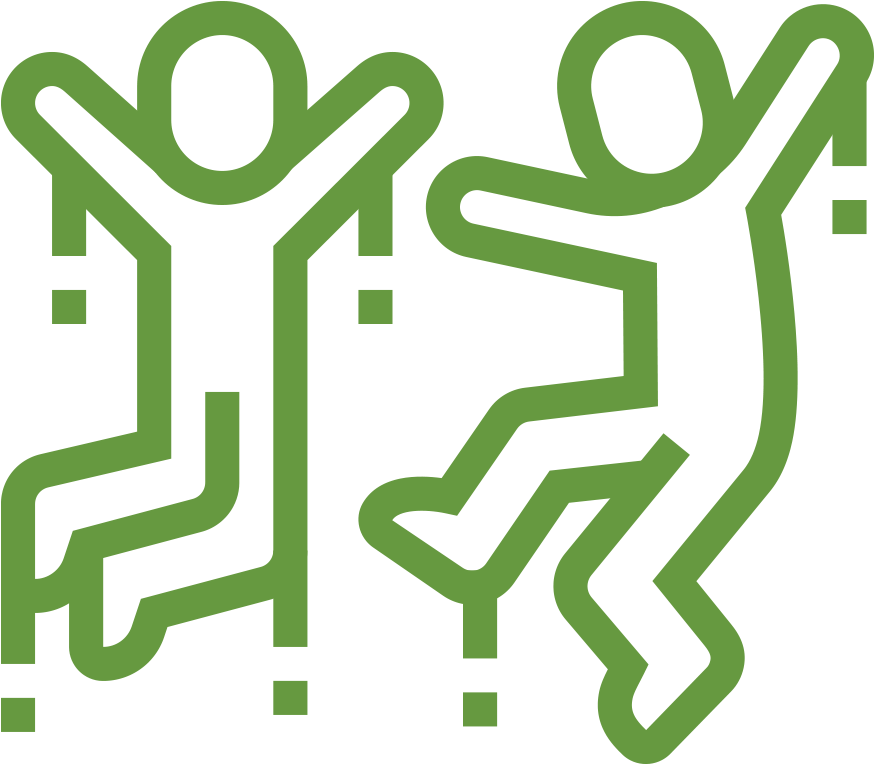 Engage
Here are some of our favourite ways to engage kids with rocket:
Arts & Crafts
Start simple with some non-food based engagement. This is especially helpful for a fussier child or those with sensitivities around food.
For rocket, why not try making a veg landscape picture? Use a plate or baking tray to create an edible jungle or grassland or forest from the rocket leaves and some other veggies!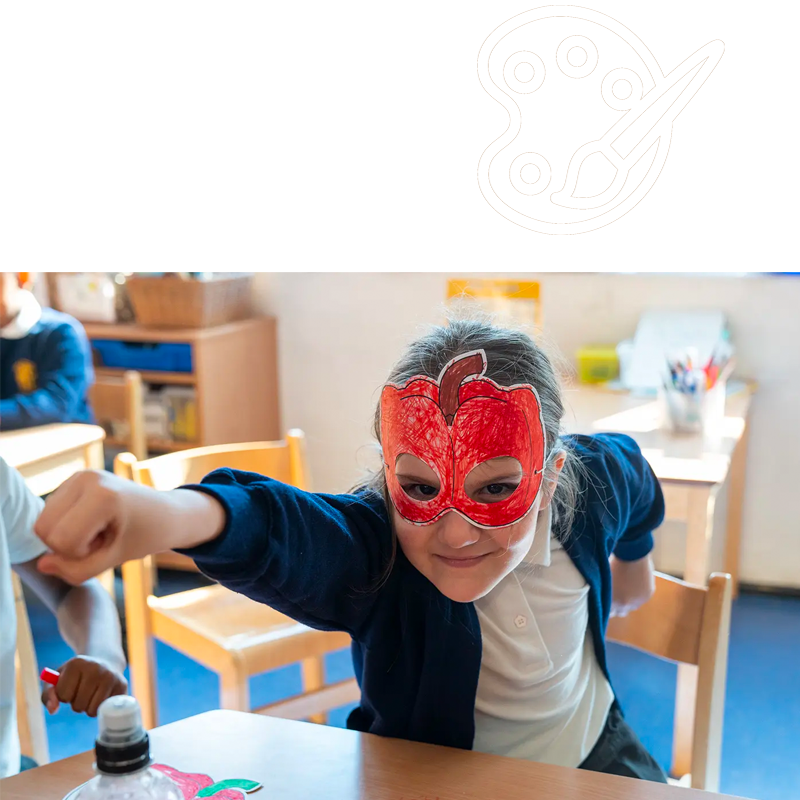 Sensory
Sensory exploration can be a wonderful introduction to physically interacting with veg. Turn it into a positive, pressure-free experience by starting off with the golden rules of "You don't need to try and you don't need to like." Reassuring a child that, while they have a chance to taste a veg, they don't have to, and are not expected to like it if they do, can make them more happy to engage with it.
Rocket is great to explore by touch and sight. Maybe compare a few different salad leaves including rocket (you could buy a bag of mixed leaves for this). How do they look similar? How do they look different? If you can, getting a couple of crunchy types such as iceberg lettuce vs softer kinds like rocket make for a great experience exploring through sound (crunch when you bite or snap the veg), too. If your child feels up to tasting it, try it with a few different kinds of lettuce and rank from "spiciest" or "pepperiest" to mildest.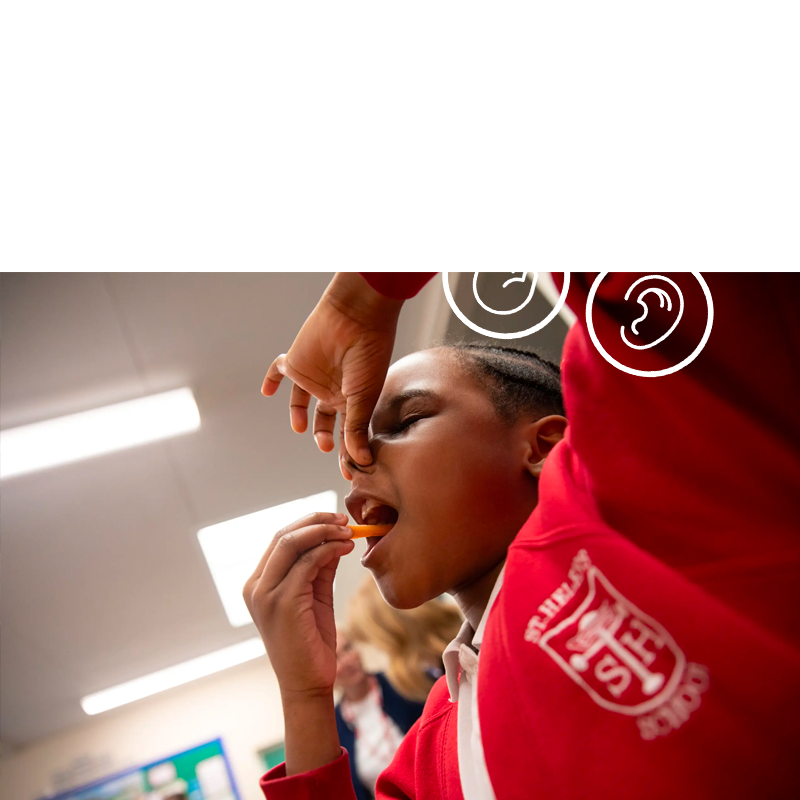 Kids in the Kitchen
Children who help to prep and cook veg are more likely to eat it. If you feel your child is ready to help and could benefit from it, keep the stress and mess to a minimum by choosing one simple task for them to do as part of the prep, meaning they can be involved and feel like the recipe is in part 'theirs', but also not make the process too much longer or more complicated.
For a younger child, why not wash and dry some rocket? They could even drizzle over a little oil and squeeze some lemon juice, too, to make a little side salad perfect for pizza or pasta night!
For an older child, it could be a great opportunity to be in charge of planning and making a side dish. Give them the challenge of making a rocket salad as a side and suggest a few additions they can choose from. It could be as simple as oil and vinegar, mixing in some other types of leaves, or adding some fresh tomatoes. Or perhaps they want to thinly slice some Parmesan, toss some stale bread cubes in oil and roast to make their own croutons, or make a creamier dressing with some yogurt, oil, and lemon juice. Being creative and combining a few techniques can help older kids develop some ownership over cooking and help them feel happier with the meals served.
DOWNLOADS:
Use our Kitchen Ninja chart and videos to find simple ways for kids to help in the kitchen.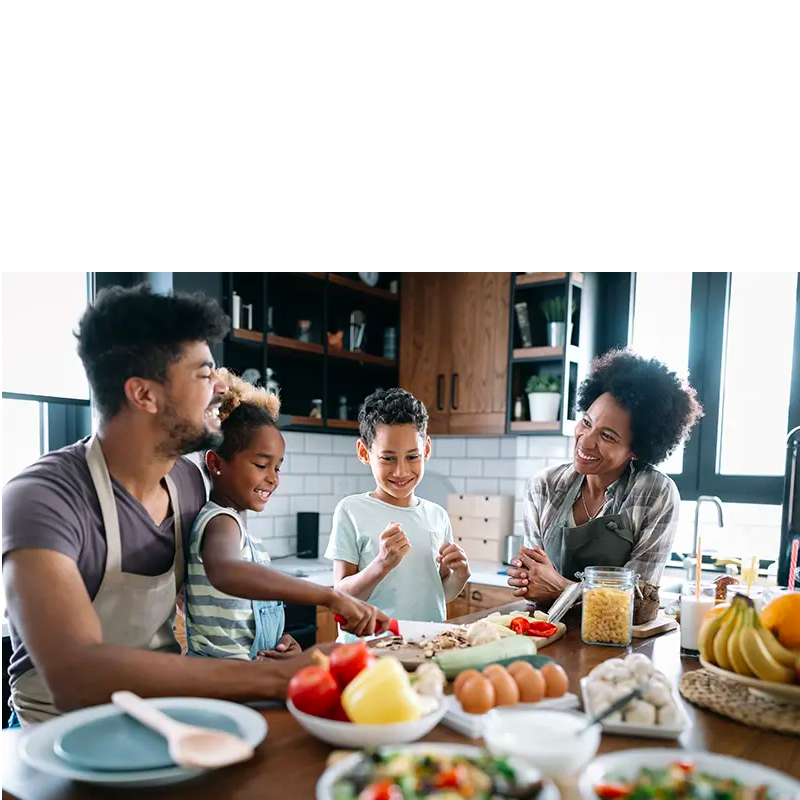 Your Food
Find your go-to meals in our family favourites section and see what veggies work best with them.
We've gathered together 15 of the nation's favourite meals and given you step-by-step ways to make small improvements, helping you to make healthier dinners the easy way, and even showing you which veg work best with which recipes.
Find out how to add more veg to your suppers here.
If You Like Rocket…Try
Does your child enjoy rocket? That's great! Rocket it usually peppery and chewy but soft, so why not try a similar texture and/or taste…

Serving
The moments before food is offered can be a perfect opportunity for engagement that can help make it more likely a child will eat it!
The first thing to do is remove the pressure. If the veg doesn't get eaten, it's not the end of the world. There will be other days, other dinners, other chances. Fun is key here – try not to worry about mess, perfect table manners, or playing with food. Instead, focus on making the process of getting the food to the plates, readying the table, and the actual eating relaxed.
The best principles for success here are the Three Rs (role modelling, rewarding, re-offering) which you can read about here.
But there is one more way you can serve for success, and that is giving your child a role. You don't have to do this every time, just encourage them in their strengths through it when you can.
Here are some of our favourite ideas:
Design a menu
Come up with a silly name or story for a dish
Help with making a meal plan and choosing veg for dinners or snacks
Help to serve up the meal on dishes, lay the table or create a centrepiece to be involved in the physical 'serving up' process
The Wonderful World of Veg
Check out our vegepedia. When to buy in-season. How to store them to keep for longer. How to engage children with each veg, and simple ideas of how to prepare and cook them for maximum taste and minimum waste. Select a veg…